---
Slotting: warehouse productivity
Slotting is the process of determining the best location of goods within the warehouse. This improves the warehouse productivity. A good slotting strategy is necessary to ensure the efficient installation of goods. For example, decreasing delivery times or more expensive warehouses mean that companies have to optimize the performance of their storage space to remain competitive.
The major role that logistics plays in many small businesses is the focus on their products and services to best meet their customer's needs. Because without those products and services, the business wouldn't exist.
The term slotting describes the strategy of distributing goods to different locations in the warehouse. This strategy is intended to increase warehouse productivity of processes such as:
Receiving products.
The preparation of orders to ship later on.
This logistic procedure is essential due to the difficulty of expanding storage spaces. Therefore, with the new consumer trends, the location of each SKU must now be prioritized in order to serve orders more quickly. In addition to the use of warehouse space.
Therefore, the ideal slotting strategy to improve a warehouse productivity should be adapted to the needs of each type of warehouse and be based on different criteria such as: the turnover rate of each product, the expiration date of the item, the flow of goods in the warehouse or the optimal picking routes.
Advantages
Among the advantages of slotting are: optimization of storage space, increased warehouse productivity and product tracking.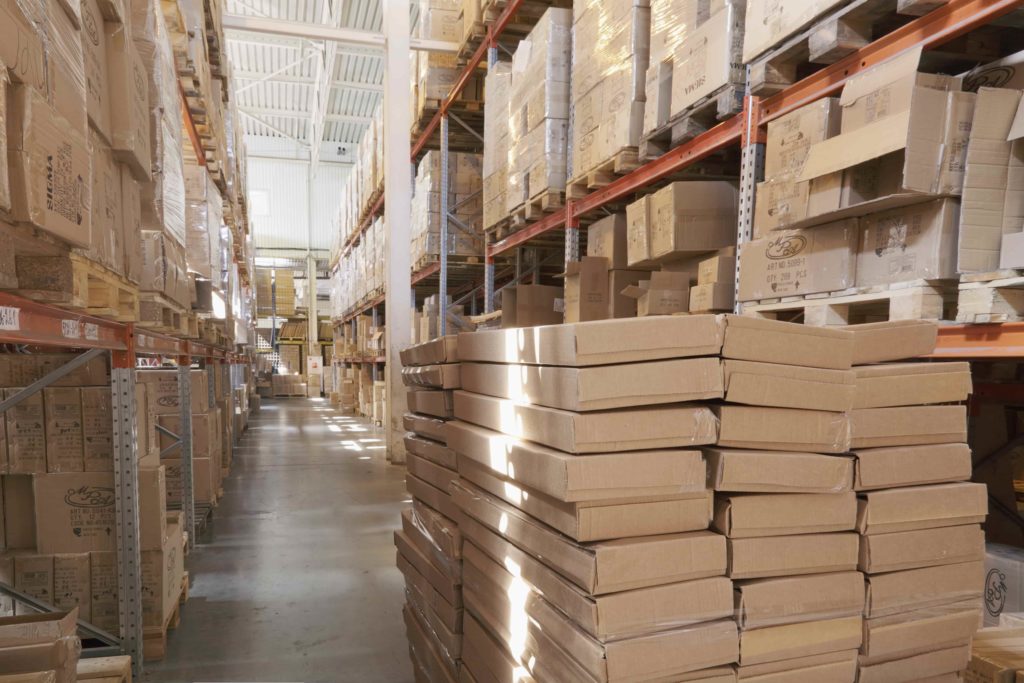 Optimization of storage space
In this case, slotting considers all available locations in the warehouse. This means that it does not favor only certain areas or others depending on the type of goods. This results in a better utilization of the warehouse space.
Increasing warehouse productivity
A good location strategy is one that analyzes the time spent picking each of the products and determines the positions of the goods. Its objective is to reduce the time spent on these movements in order to increase warehouse productivity.
Product tracking
This product location strategy avoids making mistakes in the product tracking area. This ensures that you can know, at all times and in real time, what has been the exact movement of a product along its passage through the warehouse and stretching once outside as well.
Tracking numbers are numbers design and assigned to packages whenever they are ready to be shipped. This way, tracking numbers serve the purpose of knowing the location in real time of different kind of deliveries.
In addition, in order to optimize space and thus increase productivity, a slotting strategy must be designed taking into account the current characteristics and flows of each warehouse. There can't be a generic one because what works for one doesn't necessarily work for another.
Software and automation
Digitalization has become the best method to eliminate inefficiencies in logistics processes. This also includes product placement. A warehouse management system (WMS) can then design an optimal stock placement strategy without errors, and based on the criteria set by the warehouse manager.
New logistics trends are increasing productivity within warehouses. For example, the desire to reduce delivery times for e-commerce orders has caused logistics centers to look for ways to achieve better performance from their locations. It is important to remember that efficient bin management within the warehouse reduces the workload of pickers, for example. It also optimizes the flow of goods movements within the warehouse.
To ensure an error-free procedure, it is necessary to use software that automates these logistics processes. This is because, at the end of the day, a manual management of the bin strategy in a busy warehouse can then lead to serious errors and unnecessary extra costs.
You can request a custom quote for your company
Are you looking for a
specific topic?
Comments (0)
There are no comments yet. Be the first!
Leave a comment
Latest News
The current day-to-day news about the logistics world with our articles.
Trucks and trailers: logistics
There are different types of trucks and trailers that are used to transport goods from one place to another. There are a few of industries that work with these and logistics is one of the largest industries in the world that transport materials. Trucks and trailers can capacitate different quantities of goods. Even though the needs […]
Logistics Management and its importance
By definition, logistics is a set of methods and procedures necessary and designed to achieve the organization of a company, logistics management, in order to carry out its goals or objectives. We can say that logistics management is a fundamental part to achieve efficiency in the supply of products or merchandise, from its point of […]
Reverse logistics: recycling and sustainable packaging
Industries, nowadays, generate more than 30 tons of waste every year in Spain, according to the National Institute of Statistics (INE). Individuals generate more than 20 tons in the same period of time. This is where reverse logistics comes into play. Reverse logistics is that which facilitates the creation of waste collection channels. These channels […]
Intermodal transport and multimodal transport: differences
In logistics, transport is characterised by the use of different means to send goods. Whether by sea, air or land, it all depends on the type of cargo. Below we explain the differences between intermodal transport and multimodal transport to find out how each of them can help us when transporting our goods. Knowing how […]
Software and new technology in logistics
Today, the environment in which we live is characterised by external competitiveness. From the simplest operation to the approach of strategies within the company, such as suppliers and customers. This means that the development of technology in software has been a fundamental key to be able to optimise these operations and promote automation and new […]
Military logistics: what is it and how does it work?
Military logistics has been part of the history of mankind and has evolved to become a science of application to different processes of the Operational Forces. Many of its theories and applications have been efficiently put into practice in the business world. In this article we will talk about the logistics cycle, the principles of […]
Slotting: warehouse productivity
Slotting is the process of determining the best location of goods within the warehouse. This improves the warehouse productivity. A good slotting strategy is necessary to ensure the efficient installation of goods. For example, decreasing delivery times or more expensive warehouses mean that companies have to optimize the performance of their storage space to remain […]
Freight broker agent: meaning
When it comes to carry freight, there are so many things that could go wrong: delays, damage, miscommunication…A freight broker is the one that facilitates the communication between carriers and shippers, in order for the freight or cargo to arrive safely and on time to its destination. What is a freight broker responsable for? A […]
3 ways a TMS can improve the Supply Chain
Having a reliable software solution nowadays for your transportation management is a must; it is a necessity. Even if many users underestimate the importance of a TMS for their business. A Transportation Management System is an irreplaceable tool that, under the pressure of the pandemic crisis, has been able to reduce the transportation spending in […]
Relationship between logistics and supply chain management
A supply chain covers the production and distribution of goods and services to all types of customers. And, when well executed, both logistics and supply chain management can give companies a competitive advantage and bring value to their customers. Supply chain logistics is the one that coordinates the storage and shipping of goods (and services) […]
Trucks and trailers: logistics
There are different types of trucks and trailers that are used to transport goods from one place to another. There are a few of industries that work with these and logistics is one of the largest industries in the world that transport materials. Trucks and trailers can capacitate different quantities of goods. Even though the needs […]
Logistics Management and its importance
By definition, logistics is a set of methods and procedures necessary and designed to achieve the organization of a company, logistics management, in order to carry out its goals or objectives. We can say that logistics management is a fundamental part to achieve efficiency in the supply of products or merchandise, from its point of […]
See all articles